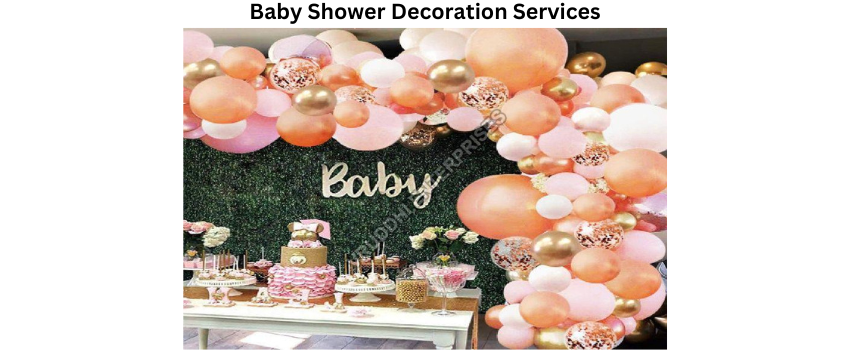 Are you planning to through the party of a baby shower? Yes. The decoration is the first thing that hits our mind at the first. Every good party requires baby showers and decorations. Never keep things out of budget and decorations should be under budget. The main purpose of the decoration is to add the feel of festivities. The decorations shouldn't get more interest than the guest of honor, the hopeful mother. There are diverse things to think about when decorating a baby shower.


Based on a Specific Theme
The first thing you wish to consider is if you wish for a theme. It could be something from cartoon characters to having special baby ornaments. The banner or images should be based on the baby products. One can have a favor at the tables for all of the guests that might be soaps of baby toys or little plush animals. Rightly for something based on the theme.
It is not essential to have a baby-based theme. The theme can be also color or have the best traditional setting. Moreover, you can select to decorate the baby shower is up to your head.


Check the different ideas available online
If you are fixed on ideas for baby shower decorations, perform a search on the Internet. You will come across different ideas from favors to direct supplies. There are a wonderful amount of themes to choose from and also great ideas on how to incorporate different baby items into the decorations. If you do choose a baby theme, you can create a diaper cake as a cute centerpiece. One can use a wash basin as a place to hold the presents or even a copy. There is no stopping your thoughts when it comes to decorations. One can just be restricted by the mind.


Budget is another important consideration
If the decoration of the baby shower decorations is based on a budget, there are numerous places you can check. Visit a local party store and see if there are any products on sale. If you are buying in bulk, talk to the store employees about receiving a discount. Online stores are simply wonderful places to discover decorations of different kinds.


Choose Balloons – Spice up any Party
One of the cheapest means to spice up any party is with the right selection of balloons. Colorful balloons, typically in pastel colors, will add to any gathering. One can put the ribbons on the balloons and attach them to the bottles, toys, or plush animals on the table. Themed balloons are considered one of the best choices for you.


Choose Flowers to Decorate
If the party is more on the complex side, flowers are an unbelievable way to beautify the baby shower. The special aromas and colors will bring a more elegant theme and a fancier ambiance. The flowers can be occupied home by the guests or you can find a reusable centerpiece that includes toys or more decorations that can be used by the parents down the column for birthday parties.
Decoration for a baby shower must be full of fun. If you and a few friends place together the decorations, this could be a happy experience as you put an event jointly for a loved one. There are no decorations that could go mistaken for a baby shower. Simply confirm that Baby Shower Decoration Services are simple, and fun and let the expectant mother have a good time ahead.
We all know that some people consider the opportunity to explore and expand creatively, and as such will take baby shower decorations to a somewhat deep level.