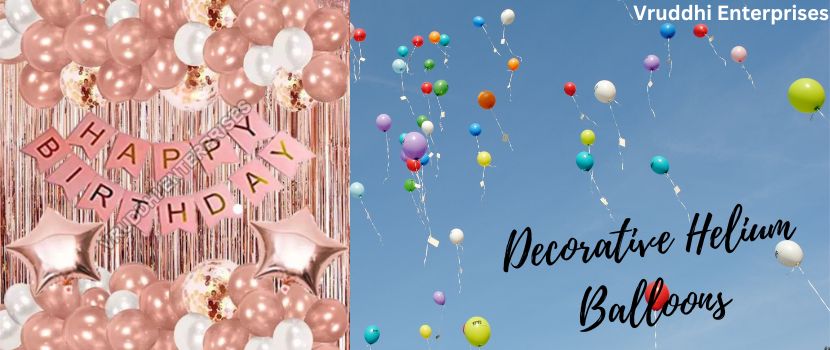 For many years, helium balloons have been a popular addition to celebrations. These colourful, floating spheres quickly provide excitement to any moment, which makes them an essential part of celebrations like weddings and other significant occasions. Continue reading to know how decorative helium balloons may take your festivities to the next level.
The Floating Elegance
The ability of helium balloons to effortlessly float in the air is one of its most appealing features. As soon as they are set free from their tethers, they float gently up in a sight that is mesmerising. Any situation is made more magical by the view of a sea of helium balloons floating above, whether within the home or outside.
Personalization and Variety
An amazing array of customization possibilities are available for decorative helium balloons. You can simply match them to the theme of your event as they come in a variety of shapes and sizes and a rainbow of colours. Imagine a joyful birthday celebration with a rainbow of colours lighting the space or a classy wedding with silver and white balloons gracing the venue.
Versatility in Decor
Helium balloons are incredibly versatile. It's possible to use these buoyant decorations in a variety of ways to make beautiful arrangements. Balloon arches welcome visitors with beauty, and balloon bouquets create wonderful table centrepieces. Create a balloon wall for memorable selfies or a balloon backdrop to add a little flare to the dance floor. There are countless options!
Accessibility and Convenience
Decorative Helium Balloons Supplier firms, event planners, and store suppliers all have easy access to helium balloons due to their popularity. It's simple to find them in the colours and styles you like. Additionally, a lot of businesses provide helium tank rentals, which streamlines and eases the blowing-up process.
Long-Lasting Celebration
Since helium balloons can float for several hours, you can be sure that your party will be lively the entire time. Helium balloons may maintain their attraction for longer lengths of time than traditional air-filled balloons, keeping the party atmosphere lively.
Picture-Perfect Moments
A celebration wouldn't be complete without pictures to remember it by. When used as a backdrop, decorative helium balloons bring a splash of colour and whimsy to each photograph. With these bright balloons, your visitors will have joy posing for priceless photos.
Safety and Environmentally Conscious Choice
Helium gas is safe to use inside because it is neither flammable nor harmful. Furthermore, helium-filled latex balloons are biodegradable, limiting any environmental harm. You can respect the environment while admiring the beauty of these balloons.
Cost-Effective Celebrations
Helium balloons are a more cost-effective approach to make a striking visual impact at your event than expensive décor. You may create a lively and joyful ambience without going overboard on decor, freeing up money in your budget for additional thoughtful additions.
In conclusion, any celebration can be made more magical and joyful by using decorative helium balloons. These balloons have established themselves as a mainstay at celebrations all over the world due to their floating elegance, limitless variety, ease of usage, and picture possibilities.
So, the next time you're organising an event, think about including these imaginative balloons in your décor to take your party to new heights and leave everyone with priceless memories. Make amazing memories by letting the beauty of beautiful helium balloons inspire you!